LOADS OF B.D.E. - NO REGRETS.
Great Fit For the Well Endowed
⭐⭐⭐⭐⭐

So far the most comfortable underwear I have ever worn.

I threw away all my other brands and now only wear these.

They keep my boys away from my thighs nicely and support well during work and play.

Beyond comfort, I love the style and how they look on me.

I feel a lot more confident in how well endowed I look by the way they sort of support in a forward position, unlike my last brand that made me look all smashed and non-existent.

Also when you pull them on everything just slides in and fits nicely without any adjusting.
Nice work gentlemen!

-Kevin
TRY AN INTRO PAIR OF KRAKATOA
Save over 60% on your first pair of Krakatoa underwear.

Join the tens of thousands already enjoying some of the best underwear on the market.
Example product title
INTRO PAIRS ARE FINAL SALE - NO RETURNS.
📦 Orders ship within 1-2 business days
💸 Shipping cost is between $3 - $5
This offer is available for first time purchasers only. 1 Intro Pair per person/per household.  Not eligible to be purchased with gift cards or combined with coupon codes.  Store reserves the right to cancel any orders in accordance with these terms or at its sole discretion.
View full details
NOT ALL POUCHES ARE EQUAL
Krakatoa's front pouch will give you the support and separation you want.

No more adjusting, shuffling, or feeling squished.

Look at the size of Krakatoa's Front Pouch compared with other famous brands:
4 REASONS YOU SHOULD TRY KRAKATOA
There's way more than 4, but it's a start.
1) YOU HAD ENOUGH OF YOUR BALLS STICKING TO YOUR LEGS.
Enough of that.

Krakatoa's Front Pouch will let you chill all day, without having to scramble your eggs to find a good nesting spot for your sausage.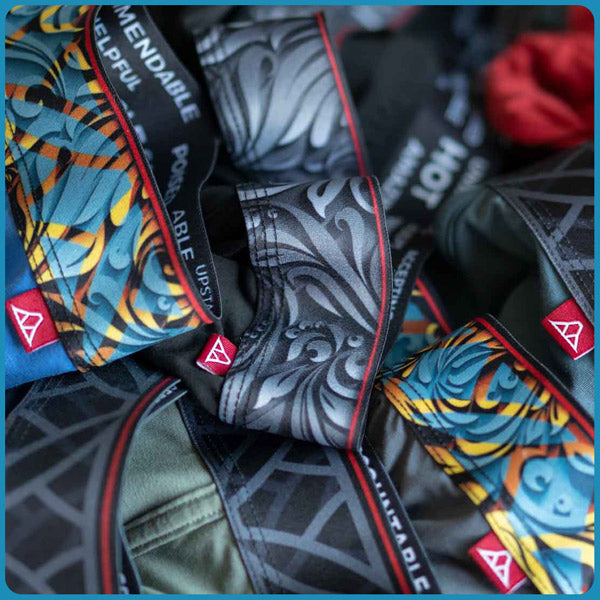 2) YOU WANT A WAISTBAND THAT DOESN'T FLIP
You got it.
The ultra-smooth waistband never flips or pinches your skin. It also has some cool affirmations inside, to pep you up at every break.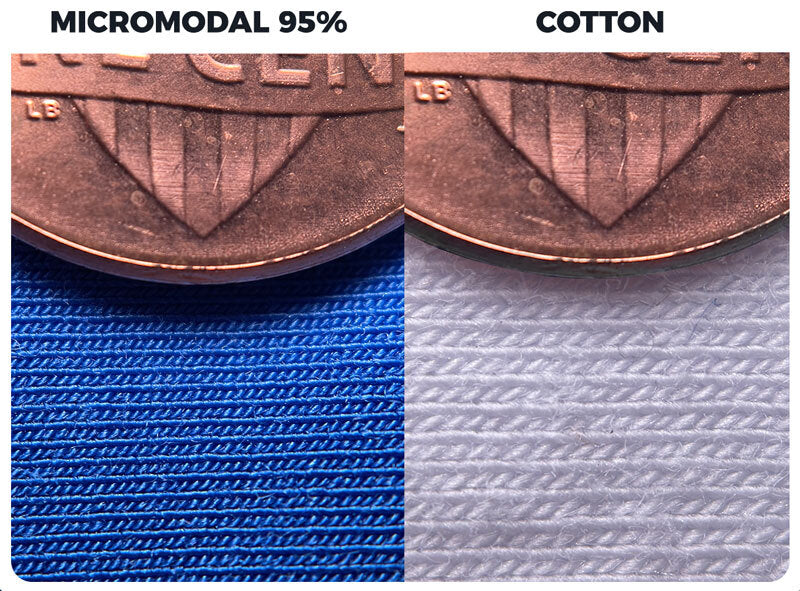 3) YOU WANT THE SOFTEST FABRIC FOR THE MOST SENSITIVE PARTS OF YOUR BODY
We do too.

We hand-sourced the most luxurious 95% MicroModal, for the ultimate in comfort. No cheap cotton blends or synthetics. Only expensive, ultra-soft, sustainably sourced, bio-derived, high-grade MicroModal.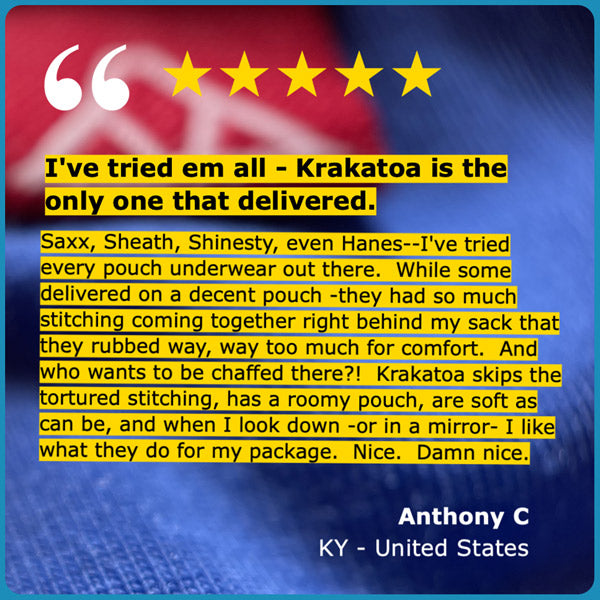 4) YOU'VE TRIED THEM ALL BUT YOU STILL HAVEN'T FOUND THE ONE
Here it is, folks.

Seriously. We put our heart on soul into making this incredible addition to your base layers.

Every inch, every feature, every material, all designed with YOU in mind.
Grab Yours Today at 60% Off!
Take our best selling boxer briefs and trunks for a spin.
Join the thousands that are living a more comfortable life in Krakatoa.
CHECK OUR USER REVIEWS WITH PHOTOS
Real Photos from Real People, See How Krakatoa Fits.